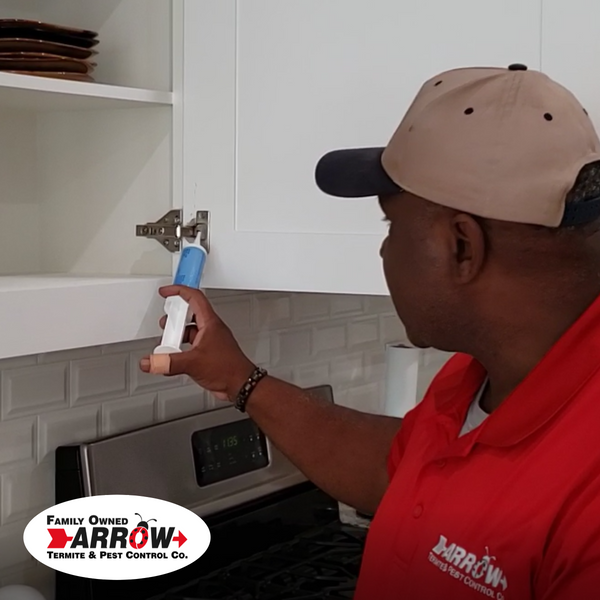 Eco-friendly Attic Dusting: Arrow utilizes long lasting, eco-friendly dust treatments for the attic or other labeled areas. This treatment is a one-time treatment for a large variety of household general pests and will have an effectiveness of over 30 years unless removed. This product is perfect for the attic space as it does not break down with heat compared to many other pesticides. The product is also moisture resistant and does not clump when exposed to moisture. The homeowner or occupant can remain in the structure, but not in the attic, during the time of the eco-friendly dusting treatment.

Home Pest Control – Outside Service & Inside on Request: Arrow will inspect & treat the interior & exterior for the initial treatment. Interior can include inspection & treatment with granules, baiting, & low odor products using IPM (Integrated Pest Management) & crack & crevice treatment methods. Exterior can include a sweep down of the eaves & overhangs up to 15 feet, residual liquid treatment to entry points & harborage areas around structure, & treatment of any visible/accessible ant mounds near the structure. After initial treatment, Arrow will treat the exterior unless customer has an interior pest problem that requires service. This service guarantees for the control of Ants, Roaches, Silverfish, Earwigs, & Spiders. 
This service does not include any wood destroying insects, German Roaches, Crazy Ants, Bed Bugs, or any other recent invasive species of pest that are not specified. Every sale quoted over the phone is contingent on verification inspection prior to treatment. Pricing will only be altered with written approval by both parties. Standard pricing includes homes up to 3,000 sq. ft. Homes bigger the 3,000 sq. ft. are subject to higher prices. This service is for a period of one year, during which period it shall be non-cancelable. After the initial contract period, the agreement shall automatically renew itself for 30-day periods until cancelled in writing by either party. Charges will occur even if property is inaccessible for treatment & Arrow has made a reasonable effort to schedule/perform treatment. A reasonable effort is 2 or more contact attempts. Charges will occur until program is cancelled in writing. Program details, products, and pest control methods are subject to change.
Pest Control – Wet Day Treatments: Arrow's residential pest program is designed so Arrow can service your property in times of inclement weather and stay on a strict service schedule to fight pests. Arrow utilizes moisture activated granulated crystals if the exterior of your property is wet as well as exterior crack and crevice methods with E.P.A. Approved products. This enhanced product is included, if needed, in your regular service schedule, at NO EXTRA CHARGE!
Health & Property Notice: Pest Control is meant to protect health and property. It is Arrow's goal to be a convenience to you with scheduling, servicing, and supporting our clients for a healthy pest free environment. Please let Arrow know if you have any known chemical sensitivities. Consulting with your doctor before treatment is recommended. Product labels and safety data sheets are available to you. Arrow will not be held liable for any insect stings, bites, diseases, and associated medical expenses or legal expenses. Arrow will not be held liable for any property damage except due to gross negligence. Arrow technicians are trained to safely and effectively take care of your pest control needs. Thank you for your business and we look forward to improving your health and quality of life!
Thank you for your business! Arrow strives to provide the best pest and termite services in the world! Arrow is Family Owned & Operated since 1958!
We have been using Arrow since we moved into our new home in August 2019 and we are highly satisfied with the service that they provide. Chris is our technician and she very knowledgeable and listens carefully in order to know the best way to treat the problem at hand. And she does a fantastic job every time. I highly recommend using Arrow for all of your pest control needs.
Jennifer L
They beat the other quotes I received, scheduled my treatment promptly, and came out when they said they would. The gentlemen that came to my home were friendly and efficient.
Dana T
Great service, usually the same people spraying the house, and they actually answer their own phone calls and there is no automated service to deal with.
Hala G
We recently started using Arrow for Quarterly pest/bug prevention on our new construction home. Both on the initial visit and today's quarterly Krista has been awesome. She took the time to answer all our questions and let us know things to watch for in a new home. She is very thorough inside and out and we immediately saw a decrease in outside bugs. I highly recommend Krista and Arrow for your pest control needs.
Emily K
Highly professional service. Technician Aaron came to my home and did a thorough job of spraying interior and exterior. He explained each product he was using and the purpose of each. Very knowledgeable of products. I've used arrow for a few years and he has been the best technician to service my home. Please put him on my quarterly treatment!!
Christina A
The rep listened to my concerns and worked thoroughly to ensure all areas of the house were exterminated. The rep was very nice and provided lots of useful information about pests and how to keep them away.
Jessica C
Roman by far is the best tech that has provided my termite service thus far. He was very thorough, professional, courteous and paid attention to detail. He communicated well all findings. He is a truly an asset to Arrow Termite and Pest Control. If at all possible, I would like to request him for services in the future.
Michael D