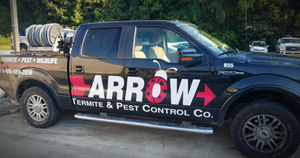 Who Is Arrow Termite and Pest Control
Arrow Termite and Pest Control is a locally known and respected company that has served the community since 1958. We offer Free Inspection Estimates for all potential customers in Baton Rouge and surrounding areas. Please call Arrow Termite and Pest Control today and thank you for the opportunity to serve you and prevent pests!
What Services Does Arrow Offer?
Arrow offers professional services for: Pest Control, Rodent Control, Bedbug Control, Termite Control, Mosquito Control, and more for Residential, Commercial, and New Construction Properties!  Prevention of pests is our goal through great IPM Service!
What's the Arrow Pest Technology Method?
Integrated Pest Management (IPM) is an effective and environmentally sensitive approach to pest management that relies on a combination of common-sense practices. We use current, comprehensive information on the life cycles of pests and their interaction with the environment. This information, in combination with the best available pest control methods, will be used to manage pest damage by the most economical means, and with the least possible hazard to people, property, and the environment. Integrated Pest Management is more environmentally friendly than just a "spray." Don't settle for just a spray, Call Arrow today for a free consultation & to see how IPM can benefit you!