Local & Family Family Owned
Our goal is total customer satisfaction by maintaining a pest free environment in your home.
Buy Now
Online Specials & Promotions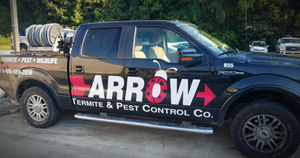 Total Pest Elimination - Guaranteed
Pest Control is more than spraying your home and hoping for the best, it's a science! Our plan uses Integrated Pest Management (IPM) to help find, eliminate and prevent future pest problems in and around your home. We're so confident in our methods that if you're not 100% satisfied, we'll come back and retreat your home at no additional cost. Take advantage of this comprehensive and guaranteed pest protection program with our $20 Initial Pest Control Special. The most affordable and comprehensive pest prevention plan in the area.
Pests & Bugs Can't Hide From Arrow
Bugs love attics and hiding in places that are humid and undisturbed. This long-lasting and eco-friendly treatment will repel pest, termites, rodents, and more. Baton Rouge and the surrounding areas are known for its heat and humidity, but also for its pest problems! We've developed a comprehensive pest prevention plan to eliminate and prevent future problems against some of the most common insects in Louisiana. This protection plan covers ants, roaches, spiders, earwigs, silverfish, and web sweep downs.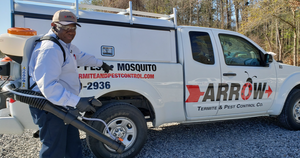 Our Mosquito Control Guarantee
It's your yard, so why not enjoy it? Mosquitoes put a damper on outdoor activities every summer and spring in Louisiana. Arrow Termite & Pest Control's new Mosquito Treatment Plan is going to give you your yard back and help keep you safe from disease. Our mosquito suppression system is designed and formulated with the most powerful pesticides to prevent mosquitoes from making their way onto your property. Enjoy the sun and outdoor fun pest free! No more swatting and scratching, live life outside again.
We have been using Arrow since we moved into our new home in August 2019 and we are highly satisfied with the service that they provide. Chris is our technician and she very knowledgeable and listens carefully in order to know the best way to treat the problem at hand. And she does a fantastic job every time. I highly recommend using Arrow for all of your pest control needs.
Jennifer L
They beat the other quotes I received, scheduled my treatment promptly, and came out when they said they would. The gentlemen that came to my home were friendly and efficient.
Dana T
Great service, usually the same people spraying the house, and they actually answer their own phone calls and there is no automated service to deal with.
Hala G
We recently started using Arrow for Quarterly pest/bug prevention on our new construction home. Both on the initial visit and today's quarterly Krista has been awesome. She took the time to answer all our questions and let us know things to watch for in a new home. She is very thorough inside and out and we immediately saw a decrease in outside bugs. I highly recommend Krista and Arrow for your pest control needs.
Emily K
Highly professional service. Technician Aaron came to my home and did a thorough job of spraying interior and exterior. He explained each product he was using and the purpose of each. Very knowledgeable of products. I've used arrow for a few years and he has been the best technician to service my home. Please put him on my quarterly treatment!!
Christina A
Roman by far is the best tech that has provided my termite service thus far. He was very thorough, professional, courteous and paid attention to detail. He communicated well all findings. He is a truly an asset to Arrow Termite and Pest Control. If at all possible, I would like to request him for services in the future.
Micheal D
The rep listened to my concerns and worked thoroughly to ensure all areas of the house were exterminated. The rep was very nice and provided lots of useful information about pests and how to keep them away.
Jessica C
I called because I suddenly had all kinds of miscellaneous bugs in my home. I called, scheduled an inspection and had service all in the same week. Bugs are gone (or dying! ) and I am pleased with their response, service and knowledge about these bugs in my area. Call them!
Karen S
Arrow Termite and Pest Control
4720 Jones Creek Rd
Baton Rouge, LA 70817
(225) 751-8900
info@arrowtermiteandpest.com
Monday - Friday, 8:00AM to 5:00PM
Saturday, 8:00AM to 02:00PM
Sunday, Closed